Welcome to Derek Richards Driver Training
Glasgow Based driving school
FREE Theory Test Pro Access
For every student who learns with us.
Here to make it easy for you to learn, easy for you to drive, easy for you to pass



Do You NEED To Be Driving?
Offering the highest quality driving lessons and customer service, Derek Richards Driver Training is your natural choice for learning to drive in the east end of Glasgow. Whether you're sick of having to rely on buses that never show up on time, tired of getting soaked walking in yet another sudden downpour or just exhausted at having to drag your kids around the busy streets, Derek Richards Driver Training will help you get your driving licence quickly so that you can:
Say goodbye to public transport forever!
Have the freedom to go WHERE you want, WHEN you want
Transport your kids to and from nursery, school or friends houses in safety and comfort.
You'll NEED An Instructor That Knows How To Help You!
The majority of my work now comes from clients who have had bad experiences with other instructors. Some had been blatantly ripped off, some had literally been left in tears, but most simply just didn't 'get' what they were being taught. And that's why I'm here: To make sure this doesn't happen.
I'll create a positive, laid back environment in the car so that you'll learn quickly and effectively. It'll be an equal partnership where you'll be free to ask questions, make suggestions and you'll be free to make mistakes. (It would be great if we never made mistakes while we were learning wouldn't it? But that's just not realistic. They will inevitably happen and when they do, you'll learn from them and move on. Easy!)
I'll help you pass the driving test quickly and easily. At the time of writing this (June 2019), I've helped over 250 people pass their driving test. When it comes to the test, I know what I'm talking about. But here's the most important thing. I'll also show how to be an excellent driver for when you're driving on your own after you've passed. I've yet to meet anyone who doesn't want to be a good, confident driver. You'll learn how to become one and I won't even charge you any extra for doing so!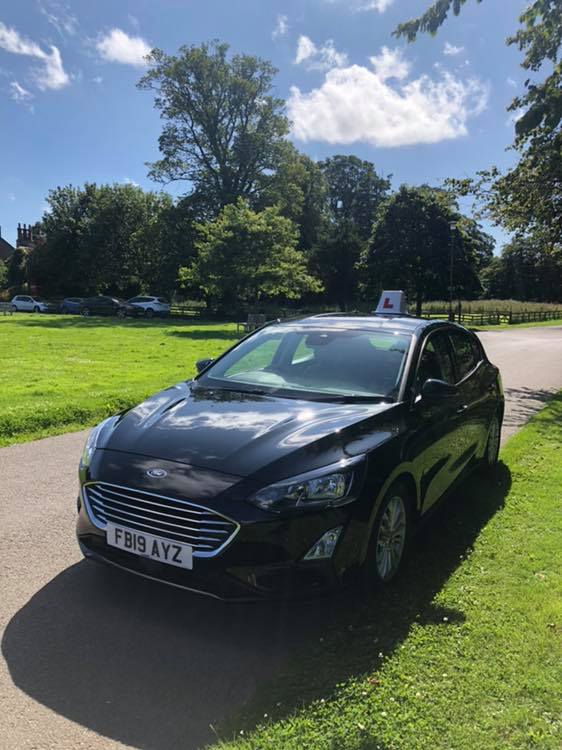 Learn to drive in the new Ford Focus!
OPERATING HOURS
Saturday to Wednesday: 8am to 4pm*
Thursday and Friday: Closed
(*first lesson starts 8am. Last lesson finishes at 4pm)
- 90 minute lessons
- East end of Glasgow from Dennistoun to Baillieston. (and all that's in between including Parkhead, Tollcross, Mt Vernon, Easterhouse, Garthamlock, Cranhill, Ruchazie, Riddrie)
- Glasgow Baillieston test centre
CURRENT AVAILABILITY
I am currently fully booked and will be for the foreseeable future, sorry. If any lesson slots become available, they will be posted here and on the Derek Richards Driver Training Facebook page. (Information correct as of 15th January 2022)
Latest News
Congratulations to Andrew Robertson who passed his driving test first time on 29th July 2019. F...