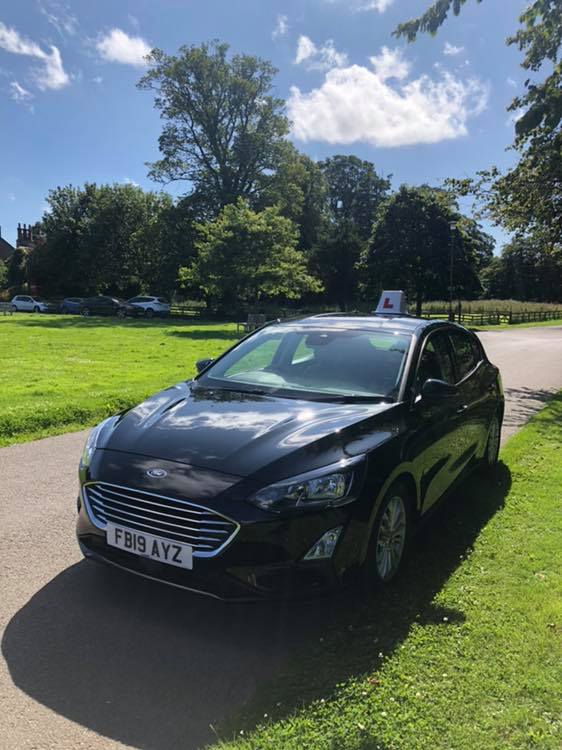 Learn to drive in the new Ford Focus!
"Great instructor. I was a nervous wreck and he put me at ease within my first lesson and got me through my test first time. Cannot recommend this guy enough."
Kimberley Stoddart, Bridgeton.
"I had some previous experience of driving with another instructor and was nervous in case Derek had a different teaching style. However, as soon as I stepped in the car there was an instantly relaxed atmosphere. Derek let me go at my own pace and choose my objectives for each lesson, meaning anything I felt weak at I was allowed to repeat until I had improved. In any intense situation, Derek remained extremely calm and reassured me constantly! I couldn't have asked for a better teacher. A friend as well as an instructor!"
Emma, Dennistoun
"I highly recommend Derek, at first I was really nervous about driving another car other than my own car that I had been practising in but after my first lesson I felt really comfortable in his car. I liked the fact i could briefly discuss how each lesson had went at the end with him. He helped me gain the confidence I needed to pass my test. Very easy to talk to and excellent instructor with lots of patience."

Jade Reilly
"I decided to take lessons with Derek Richards Driver Training on the recommendation of a friend.

Prior to this I had a less than positive experience when I took an introductory lesson with a different instructor at another driving school.
Derek immediately made me feel at ease and instilled confidence in me. During lessons I was encouraged to question my own manoeuvres and any mistakes in a constructive way. I felt that my driving skills progressed really quickly and thanks to his patience I passed the test at my very first attempt.

I would have no hesitation in recommending anyone to learn to drive with him."
Stacey, Moodiesburn
"Really grateful to Derek for being patient and calm throughout my lessons. It was particularly important after having unpleasant experiences in the past with previous instructors. Nothing was too much trouble and he always asked what I wanted to work on as opposed to doing the same thing each lesson. This really helped to improve my confidence. Thank you!"
Alex, City Centre
Driving Lessons
I am a driving instructor covering the east end of Glasgow. My aim is to make driving as simple as possible so that you learn effectively and pass your test quickly and have many years of safe driving. You'll learn in a positive and relaxed environment and you'll get plenty of practice at driving; You won't be kept at the side of the road for longer than necessary during lessons.
You WON'T get laughed at or get "into trouble" if you make any mistakes and you certainly won't get shouted at! I have been particularly successful with nervous clients and those who have had bad experiences with previous instructors.
What makes me different:
When I was learning to drive, it took me longer than it should have: I didn't have a clue what I was doing and consequently, ended up spending more money on lessons than I should have. I wouldn't say I was ripped-off by my driving instructor but he could definitely have delivered my training in a more effective way; a way that engaged me in the process. It was this experience that made me want to be a driving instructor.
I ensure that anyone learning to drive with me won't have the same negative experience that I had; that they will learn quickly and ultimately, not have to pay as much money in the long run. Every driver training course is specifically designed so that clients develop into safe,confident and responsible drivers.
I believe very strongly in continuous development and I invest a lot of my time and money on further training so that I continue to improve as an instructor. The feedback I get from happy clients lets me know that this is time and money well spent. I've been fortunate enough to work with learners who have had bad experiences with other instructors and its a great opportunity for me to find out what they didn't like with them and what I do that's better. This is some of that feedback:
There is a structure to lessons with defined goals and outcomes. Pupils know what they need work on and new topics are introduced when goals have been acheived. There's no "aimless driving around"
Clients are invlolved with setting the agenda on lessons. If you feel you need to work on your parallel parking, we'll do it! It's not all about driving around test routes and getting bored. We'll cover real life situations: If the thought of parking in Tesco car park terriffies you, we'll practice it. If the thought of driving home from work in rush hour traffic sends shivers down your spine, again we'll practice it. It's a lot easier when you have your instructor by your side, and it's never as bad as you think its going to be.
I'm not strict. Initially, when I was told this I wasn't sure if it was a criticism or a compliment. I've been assured it's a compliment. I'm always completely flabbergasted when I'm told that some instructors can be so controlling and strict that it drives (no pun intended) their customers to tears. I don't think there's any need for this. No one wants to make mistakes but it's an inevitable part of learning to drive, I should know, I made tons of them myself. I'm there to keep you safe and help you improve, not turn you into a quivering wreck.
I won't bore you to death with football chat or tell you my life story. I'm a driving instructor; my life story isn't that interesting. Don't get me wrong, I'm happy to chat away. Talking to your passengers is an inevitable part of driving and it should definitely be encouraged to get you ready for real life driving but I'm not going to go on and on about my football team when you can't even stand the sport.
I show up on the day I say I will and I'm always on time. In the unlikely event that I'm running late, I'll text you to let you know when I'll be there. So no waiting at the front door for 20 minutes wondering if your instructor is actually going to turn up.
There's a completely different, more laid-back attitude in the car, a better environment for learning and progressing. I work hard on having good rapport with my customers, through patience, honesty and good humour.
I won't waste your time by answering my phonecalls on YOUR lesson.
What you can expect:
A professional, experienced instructor using the most up to date learning techniques in order to help you achieve the most from your lessons.
Individually tailored lesson plans to suit your individual style of learning.
A range of flexible lesson times and durations to fit in with your work, study or family commitments. Lessons are available weekdays and Saturdays. You can be picked up or dropped off from/at your work, school or college/uni.
A comprehensive range of courses from complete beginners courses to courses designed to get you 'test ready' for those with previous driving experience.
FREE theory test training comes as standard.
FREE post test training. You can have one hour post test training at anytime up to one year after passing your driving test. Terms apply.
Money Back Guarantee. If you're not happy with your first lesson, you can have your money back!
Professional development & experience
I continually develop my skills as an instructor with further training and attending courses designed to help me deliver the highest possible standard of lessons. It's what helps me stand out from my competitiors. I passed all three qualifying tests first time to become a DSA Aprroved Driving Instructor in July 2008.
Here's a list of some of the further training I've done after qualifying to date:
Attended a 3 day instructor training course in Southampton with Blaine Walsh, one of the industry's leading instructor trainers
Attended the insight2drive driving instructors conference in Liverpool, May 2012
Attended a Business and Instructing Development training day run by ADI Support
Attended a one day In-Car Coaching course with Graham Hooper of the highly respected Tri-Coaching Partnership
BTEC Professional Award (Level 4) In Driver Coaching run by Tri-Coaching Partnership
Attended the Fresh Insight driving instructors conference in Widnes, August 2013
Completed Revoltions 1.0 course; a course designed by Julia Malkin MBE and Gary Gough to help driving instructors gain knowledge and understanding of Special Education Needs and how to apply this to learning to drive. The course covered Dyslexia, Dyspraxia, Attenion Deficit Disorder and Attention Deficit Hyperactivity Disorder, Autism and Aspergers. An end of course assesment was passed in February 2014.